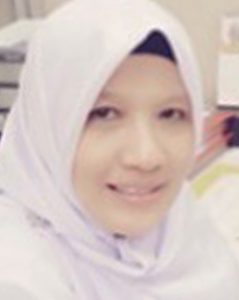 Mdm Haslinda
Supervisor
Mdm Haslinda holds a Bachelor of Early Childhood Education with Psychology from the Singapore University of Social Sciences. She has 10 years of experience dealing with children and a Mentor Teacher to teachers.
"I trust that children are active learners who learn in 3 dimensions that are through their thoughts (cognition), feelings (emotion) and their place in the world (environment). We have to help them progress their learning through these and refine their understanding of the knowledge they have gained in order for them to reach a sense of meaning from what they learn." (Mdm Haslinda)
Teacher Naimah
Assistant / Programme Officer
Teacher Naimah completed her Bachelor of Islamic Jurisprudence at Al-Azhar University in 2017. She has experienced dealing with young children and enjoy interacting with them.
"I like to interact with children as I realise that I can learn from them too. I am passionate in teaching children and create a fun and educational learning journey for them." (Teacher Naimah)
Teacher Sophia Insyirah
Assistant / Programme Officer
Teacher Sophia Insyirah is a graduate from Temasek Polytechnic and currently in her 3rd year doing part time diploma in Islamic Studies from Cordova Education Centre. She was a volunteer Mentor teacher to primary school children in Maths and Science in one of the education Institutions.
"I have a passion in educating children and I am willing to be patient with any obstacles that I am bound to face in the long run. I believe that we are more capable than what we think of ourselves and therefore, I aim to bring out the best in the children throughout their developmental journey."(Teacher Sophia Insyirah)
Teacher Rashidah
Playscience Team
Teacher Rashidah is a passionate and an experienced educator in the field of early childhood. She holds the Diploma in Pre-school Education - Teaching from the International Centre for Early Childhood and Certificate of Accomplishment to teach Speech and Drama and FUNdamental Movement Skills & Creative Games to preschoolers.
"I believe that all children are capable and gifted in their unique and individual ways. I aspire to nurture children to the maximum and to help to enrich their lives through interesting and exciting learning experiences." (Teacher Rashidah)
Teacher Nur Azdah
Playscience Team
Teacher Nur Azdah joined Cavenur Kindergarten in 2018 as Teacher Aide. Currently, she is pursuing the Advanced Certificate in Early Childhood Care and Education by National Institute of Early Childhood Development (NIEC) and will complete by October 2019.
"I see children as wonderful human beings with pure hearts, and imaginative minds. As an educator, I would love to help them grow to become people who help others and care for the environment around them. I would love to nurture them by meeting their needs and encouraging them to develop their abilities." (Teacher Nur Azdah)
Ms Norlia
Support Team
Ms Norlia was an Executive Assistant at Mendaki for 10 years before she joined the Pertapis Children's Home Home as a Welfare Officer for 5 years.
Her dedication and commitment bring her to Cavenur Kindergarten. She holds the Fundamental in Early Childhood certificate. She hopes to contribute her time and energy to the cause of enriching the lives of the ALL Cavenurian children be it in the Kindergarten and the Student Care Centre